| | |
| --- | --- |
| | It's true, OpenID™ single sign-on can make your life simpler, let you get more done in less time. One username with one password logs you in to thousands of sites. |
| | Until now, your OpenID™ has been mostly limited to sites where the consequences of inauthenticity are limited. If an impostor sets up an OpenID in your name, your reputation may be affected but the site doesn't lose money. That's just the way it is on the outdoor Information Highway. |
Now, with the Reliable™ brand OpenID™, sites can know that your OpenID really represents the real you, letting you use your OpenID for real transactions.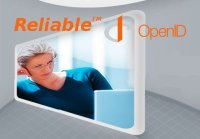 Because your Reliable™ OpenID™ includes a digital identity certificate, you can use it to digitally sign files and email messages, letting relying parties expedite their dealings with you.
Get Reliable™ OpenID™s for your whole team and securely exchange encrypted messages and files!
Imagine the new level of convenience you'll get with your own Reliable™ OpenID™ !
And now you can get your own Reliable™ OpenID™ absolutely FREE! Simply click the button below and we'll start the validation procedure.